A few years ago, a reader (Claire) wrote to us asking:
"Can you do a segment on sandals? Summer is coming around again, and like every year I resign myself to wearing lightweight sneakers all summer with the occasional flip flop. I just haven't been able to find a nice stylish men's sandal in my size (men's 5-6). Is there such a thing? Any advice would be appreciated."
Via GQ
Via GQ
I addressed the question here best I could. If you read the post, you will note that I mostly focused on sandal alternatives, as I am not a fan of menswear sandals. Since we published that post, the menswear sandal debate has raged on, ranging from some readers arguing that sandals are a "don't" regardless of gender presentation to other readers arguing that sandals are a must for a stylish footwear collection.
I preface this post by saying that my personal dislike of menswear sandals is not rooted in any gender-normative footwear biases. I am not trying to "gender police" or categorically rule out a fashion choice because it might be feminizing. (Quite the contrary – I love that "menswear" is adopting more traditionally feminine styles, like florals, bright colors, and sequins.) My dislike is rooted in the following:
Sandals require excellent foot hygiene, and I don't see enough of it walking around the streets of NYC.
American menswear sandals tend to be very chunky. I don't need enough tread on a sandal to go hiking because I personally wouldn't wear sandals to go hiking. And yet, when I recommend strappy sandals, even if they are a "menswear" brand, our readers tend to say they are too feminine.
I'm not too keen on how menswear sandals look with traditional boxy American menswear apparel. They often look better, in my opinion, with more breezy/slouchy or slim-cut European styles.
I had recommended Etsy unisex sandals similar to these and was told they were too feminine.
But, that's just my two cents. And, like a food critic, I'm entitled to my opinion.
However, there are some readers out there, including the original query-er, who actually agree with me re the Euro approach to wearing sandals. In that case, I am happy to recommend some examples of how to pull them off stylishly (Again, in my opinion. These may be "too feminine" for you. But, keep in mind that dapperQ represents a wide range of tastes and presentations with respect to masculinity.)
How To…
Slim-cut, tailored, and clean via Men's Fashion & Style
Slouchy swag via Style.com
Birkenstock style sandals don't have to be stereotypical. Instead of pairing them with cargos, try a European cut pant. Via Tumblr.
No mountain climbing tread here. Beat the heat in something simple from head-to-toe. Via Style.com
If you're more of a high-fashion risk taker, try embellishments, like fringe sandals. Via Style.com
Thongs can be dapper too. All in the styling. Via Style.com
Similar Styles…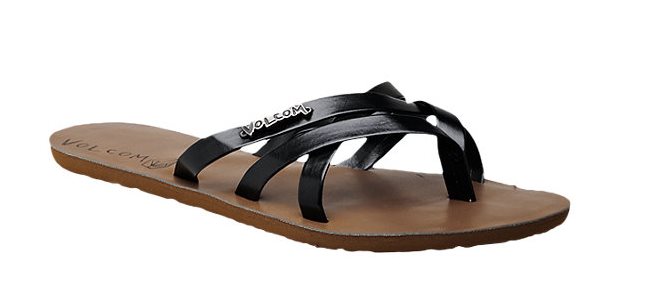 Strappy, simple Volcom New School Black Creedler run in sizes women's 5-10 and are a steal at $25.00. Available at Zumies.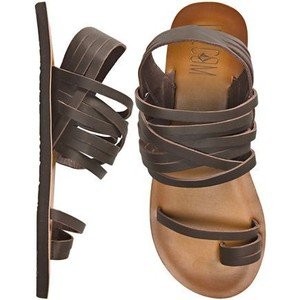 Here's the thing about recommending specific items: By the time this post was published, these were already sold out. BUT, this "menswear" inspired women's sandal is also by Volcom, so keep an eye out for the Volcom brand.
Buckle Leather Unisex sandals from Etsy.
Rainbow Inspired Leather Unisex sandals from Etsy.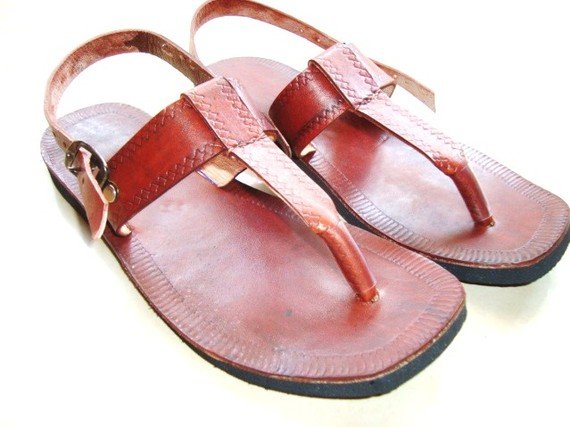 Simple T Bar Leather Unisex sandals from Etsy.
For the fashion-forward risk-taker: Perfect with slouchy pants. Bed Stu Claire Sandal from American Eagle. Available in women's sizes.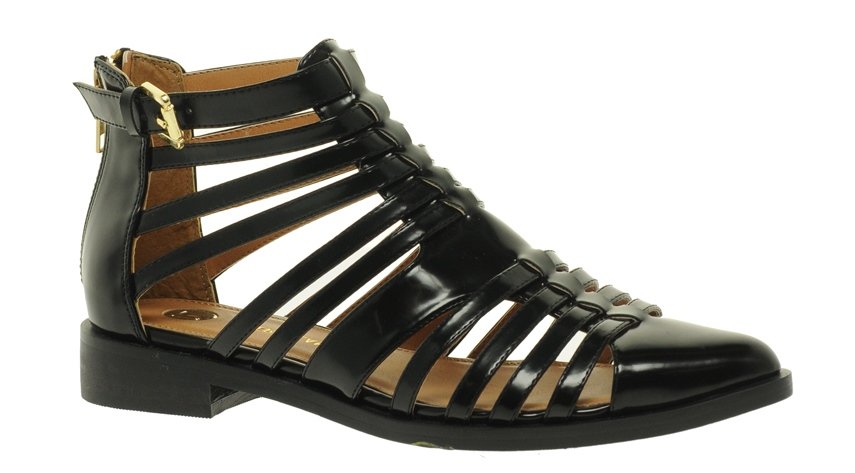 River Island Pappy sandal wears like a breathable menswear boot. Goes great with a pair of dressier pants (even some nice linen ones for your summer vacation). Available from ASOS in women's sizes.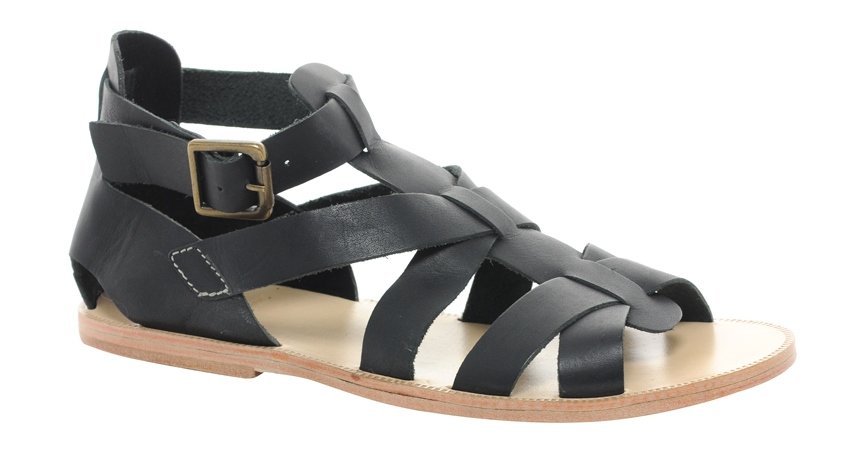 H by Hudson sandals available in women's sizes from ASOS.
Criss-Cross Sandal from American Eagle comes in women's sizes.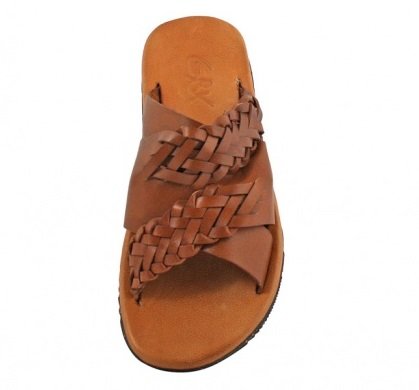 Men's GBX Helio sandals start in size 6.
Crown Vintage Dido sandals are available at DSW in women's sizes 5.5-11.